The Bald & the Beautiful: 9 Amazing Head Tattoo Ideas for Shaved Heads
Is your head your canvas? Then get it inked! Here are 9 amazing head tattoo ideas for shaved or bald heads!
Did you know that 46 percent of Americans have tattoos? You may feel surprised by this statistic. After all, many of them keep them well-hidden beneath their work clothes.
Of course, some tattoos prove harder to cover. Like neck tattoos, the "job breakers" of the body art industry. While hard to conceal, you have to give the people who get them props for being gutsy with their ink.
That said, if you're looking for tattoo placement that's even more brazen, consider a head tattoo. It doesn't get much more in-your-face than an inked out scalp, and it represents one of the prime canvases of the human body.
What's more, if you suddenly go super-conservative, grow your hair out. Of course, if you're balding, you don't necessarily have this luxury, but a beanie works, too.
Read on for tattoo ideas for shaved heads that'll blow your mind and leave you jonesing for your next visit to the parlor.
Head Tattoo Ideas
While gaining in popularity, head tattoos also remain less trendy than other parts of the body, such as the lower back and upper arms. So, they let you showcase your love of body art in a singular way.
While head tattoos for men remain far more common, women are now starting to get in on the act, too. Some of the sweetest designs out there today include head tattoos for women, such as vibrant flower designs.
Of course, head tattoos are just as diverse as the people who get them. That means you'll find everything from traditional Sailor Jerry-inspired birds and roses to thick tribal lines and intricate Celtic knotwork.
There's also a growing body of wicked head tattoos that make you do a double-take. Whether it's because of their realism or the artful way their 3D designs play with your eyes, head art is taking it to the next level.
Tribal Head Tattoos
Tribal or indigenous tattoo designs remain just as popular as ever, for men and women alike. They are generally done in all black and feature thick, uncompromising lines.
These bold lines give tribal tattoos a sense of clarity that may lack in more intricate designs, at least from a distance. The symbols associated with tribal tattoos have been passed down for millennia.
So, it's essential to understand the culture of a design you're considering. You should also research the significance of the symbology. For example, Polynesian art proves very different than Marquesan designs.
Many of these designs also prove gender-specific. Examples of this include the tattoos worn by Berber women in North Africa or the Inupiaq matriarchs of Alaska.
If you trace your cultural heritage to one of these groups, then opting for a tribal tattoo can come with deeper meaning. It's an excellent way to display pride in your heritage.
Blackwork Head Tattoos
If you're intrigued by tribal artwork, but don't feel a particular cultural pull to the designs, why not go with Blackwork? A fresh take on the tribal style, it features bold, black lines in a variety of geometric shapes and patterns.
Think of it kind of like traditional Moroccan henna tattoos, only crisper and darker. These pieces prove mesmerizing and look amazing on the scalp.
Traditional Head Art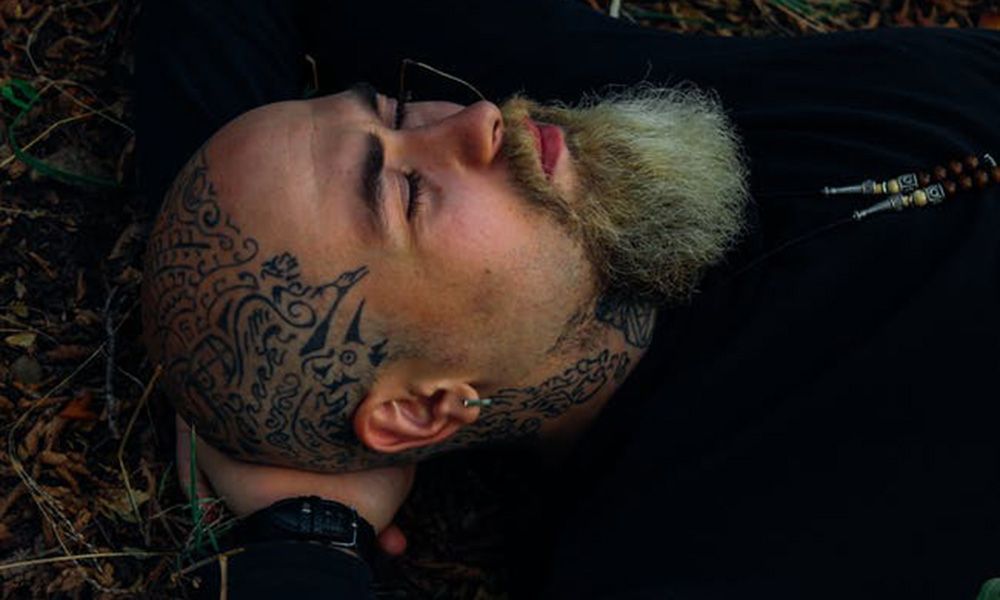 The body art of sailors, soldiers, and counterculture freaks, Traditional tattoo designs remain iconic. Also known as Old School tattoos, their designs are deeply rooted in American culture, particularly military culture.
Whether you've served or you're obsessed with vintage culture, they make an excellent option for head art. You've also got plenty of artists to choose from including:
Ed Hardy
Lyle Tuttle
Bert Grimm
Traditional tattoos feature bold lines and vibrant colors, which makes them ideal for head placement. If you want to commemorate time served in the military or you want to rock a vintage vibe, then this is the body art for you.
Realistic Portraits
Let's get this out of the way upfront. Realistic tattoos are going to cost you. After all, the best ones require incredible feats of artistic skill coupled with countless hours spent in the tattoo chair.
And if you appreciate realistic ink, then you don't want to settle for anything but the best. Whether you opt for a portrait of a loved one or your favorite celebrity, realistic portraits range from black and gray to vibrantly colored.
Some artists do fantastic work when it comes to vivid images of animals, too. When it comes to realism, do your research before choosing a tattoo artist.
Fortunately, your scalp will give them plenty of room to create a work of art. Just be prepared to spend serious time and money acquiring one of these masterpieces. That said, it'll prove well worth it.
You may choose to keep your head shaved forever.
Watercolor Head Art
Right now, watercolor tattoos represent a significant trend in the body art world. So, why not combine them with another top trend, head tattoos?
You've got nearly endless options when it comes to designs for the watercolor method. Some people opt for there favorite Impressionist painting, while others want koi fish or a flower.
Because of their fine quality and lack of thick lines, they also make an excellent option for women. They appear both fragile and feminine.
New School Tattoos
If you're looking for bold artwork with a distinct comic-book energy, then New School tattoos will rock your world. They prove intricate and often feature fantasy scenes with vivid color.
Because these pieces prove so detailed, giving your artists plenty of room to work proves crucial to a great finished product. Fortunately, your scalp can accommodate the extra room they'll need.
Ready for Some Ink?
Whether you go with an elaborate Blackwork design or a New School piece, you've got plenty of options when it comes to the artwork that will look amazing on your head.
Because your head represents a beautiful, big canvas, no matter which tattoo design you choose, your tattooist will have plenty of room for artistic license.
Ready for your next trip to the tattoo chair? Contact us today to set up an appointment.