Maui Tattoo Shop
Skin Factory Tattoo Maui | Located in Lahaina | Maui Tattoo Shop
Still Open
Call  (808) 661-5511 or Text (702) 768 8578
Our Maui Tattoo Shop proudly serves locals and visitors to the the beautiful island of Maui.
"Mahalo"
View Gallery
Welcome To Our Maui Tattoo Shop
After 24 years in building the most successful tattoo shops in Las Vegas, master tattoo artists Eddie Lin dreamed of moving his family to the beautiful island of Maui. In 2017 Eddie found the right location in the heart of Lahaina, west Maui and Skin Factory Tattoo Maui was born. Attracting the best tattoo artists in Maui this little tattoo studio is popular with locals and visitors. Stop by, say Aloha and make your appointment at the Skin Factory Tattoo shop in Maui today.
Call us for a free consultation and we can discuss your next piece of art.
Still Open
Call  (808) 661-5511 or Text (702) 768 8578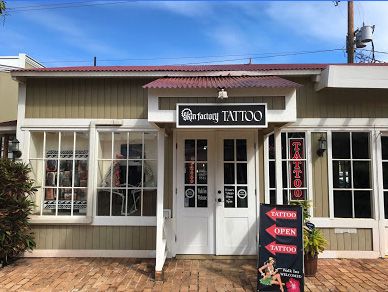 Only the best at out Maui Tattoo Shop
Awesome Tattoo Artists, Clean & Friendly Lahaina Tattoo Shop
"Coming from an artist background I enjoyed airbrushing, murals, charcoal and pencil illustrations.  When I discovered Tattooing and everything changed.  Started the Skin Factory Tattoo in 1995 with the goal to attract the best Tattoo Artists. I enjoy all styles of tattooing but specialize in fine line realism color and black and grey" Owner – Eddie Lin
The Best Maui Tattoo Artists 

"The shop is beautiful and clean"
"I was a walk in first thing in the morning 2/11 and Eddie did a quick and fantastic pineapple on my neck! He has very steady hands. The shop is beautiful, and clean. The other staff member was kind as well. If you have time, and want a good tattoo by some talented folks, this is a great place! Thank you, Eddie and Skin factory."
Lissy Dawn

"we received great tattoos"
"About 5 days before our trip to Maui, I contacted Eddie for an appointment at the end of our trip. He was very accommodating. He even agreed to tattoo my sister the same day. I felt very comfortable in the shop, and we received great tattoos! Thank you Eddie! Anyone looking to get a tattoo while visiting Maui, I totally recommend Eddie and Skin Factory. "
Kathy Walker

"If I could rate this place 100 stars I would!"
"If I could rate this place 100 stars I would! Eddie is an amazing, professional tattoo artist. My 5th time out to Maui, I had to get a tattoo. I hit up Eddie a month in advance and he agreed to get me in on his day off. Bright and early 8am he came in and tattoo'd a piece of art. 11 inch perfected tattoo in an hour and a half."
kailee sanchez

"My wife and I booked appointments during our Maui trip on 02/18. Gabriel did my leg and Jessie did my wife's arm. Incredible… the tattoos we had envisioned that they brought to life is just amazing, so amazing in fact that when we showed the rest of our family, they filled the parlor the next day for more incredible artwork. Thank you so much for making it such a fantastic experience."
Johnny Bayrack
Call 808 661 5511 to book your appointment
| | |
| --- | --- |
| Monday | 10:00 AM - 9:00 PM |
| Tuesday | 10:00 AM - 9:00 PM |
| Wednesday | 10:00 AM - 9:00 PM |
| Thursday | 10:00 AM - 9:00 PM |
| Friday | 10:00 AM - 9:00 PM |
| Saturday | 10:00 AM - 9:00 PM |
| Sunday | 10:00 AM - 9:00 PM |