Maui Tattoo Shop
Skin Factory Tattoo Maui | Located in Lahaina | Maui Tattoo Shop
Our Maui Tattoo Shop proudly serves locals and visitors to the the beautiful island of Maui.
"Mahalo"
View Gallery
Schedule an Appointment
Welcome To Our Maui Tattoo Shop
After 24 years in building the most successful tattoo shops in Las Vegas, master tattoo artists Eddie Lin dreamed of moving his family to the beautiful island of Maui. In 2017 Eddie found the right location in the heart of Lahaina, west Maui and Skin Factory Tattoo Maui was born. Attracting the best tattoo artists in Maui this little tattoo studio is popular with locals and visitors. Stop by, say Aloha and make your appointment at the Skin Factory Tattoo shop in Maui today.
Call us for a free consultation and we can discuss your next piece of art.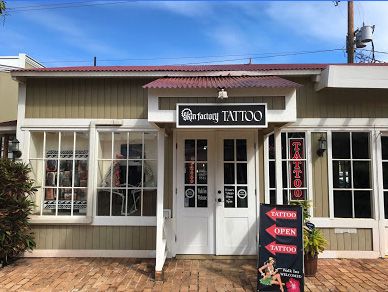 Only the best at out Maui Tattoo Shop
Awesome Tattoo Artists, Clean & Friendly Lahaina Tattoo Shop
"Coming from an artist background I enjoyed airbrushing, murals, charcoal and pencil illustrations.  When I discovered Tattooing and everything changed.  Started the Skin Factory Tattoo in 1995 with the goal to attract the best Tattoo Artists. I enjoy all styles of tattooing but specialize in fine line realism color and black and grey" Owner – Eddie Lin

"The shop is beautiful and clean"
"I was a walk in first thing in the morning 2/11 and Eddie did a quick and fantastic pineapple on my neck! He has very steady hands. The shop is beautiful, and clean. The other staff member was kind as well. If you have time, and want a good tattoo by some talented folks, this is a great place! Thank you, Eddie and Skin factory."
Lissy Dawn

"we received great tattoos"
"About 5 days before our trip to Maui, I contacted Eddie for an appointment at the end of our trip. He was very accommodating. He even agreed to tattoo my sister the same day. I felt very comfortable in the shop, and we received great tattoos! Thank you Eddie! Anyone looking to get a tattoo while visiting Maui, I totally recommend Eddie and Skin Factory. "
Kathy Walker

"If I could rate this place 100 stars I would!"
"If I could rate this place 100 stars I would! Eddie is an amazing, professional tattoo artist. My 5th time out to Maui, I had to get a tattoo. I hit up Eddie a month in advance and he agreed to get me in on his day off. Bright and early 8am he came in and tattoo'd a piece of art. 11 inch perfected tattoo in an hour and a half."
kailee sanchez

"My wife and I booked appointments during our Maui trip on 02/18. Gabriel did my leg and Jessie did my wife's arm. Incredible… the tattoos we had envisioned that they brought to life is just amazing, so amazing in fact that when we showed the rest of our family, they filled the parlor the next day for more incredible artwork. Thank you so much for making it such a fantastic experience."
Johnny Bayrack
The Best Maui Tattoo Artists 
Call 808 661 5511 to book your appointment
| | |
| --- | --- |
| Monday | 10:00 AM - 9:00 PM |
| Tuesday | 10:00 AM - 9:00 PM |
| Wednesday | 10:00 AM - 9:00 PM |
| Thursday | 10:00 AM - 9:00 PM |
| Friday | 10:00 AM - 9:00 PM |
| Saturday | 10:00 AM - 9:00 PM |
| Sunday | 10:00 AM - 9:00 PM |
Tattoo Shop in Lahaina, Maui HI
Book Your Appointment, Walk-Ins Welcome!!
Being one of the best Maui Tattoo shops, we are committed to providing a pleasant atmosphere, a high level of standards in sterilization, and stunning, long-lasting, original tattoos.
Your search for the Best Lahaina Tattoo Shop Ends Here!!
Tattoo art is procuring popularity gradually and in order to meet the growing demand of today's generation, many tattoo shops are opening up here and there. The chaos and perplexing ambiance lead to great disappointment with the clients. Here, steps in Skin Factory Tattoo, one of the best Maui Tattoo shops.
We ensure that the tattooing experience for all of our clients should be a peaceful and calm one. After all, a work of art is just a failure if there's too much trouble.
Our Story Continued.
After great success from establishing the tattoo shops in Las Vegas, Eddie Lin (master tattoo artist) dreamed of moving to the beautiful Maui island along with his family. In 2017, Eddie found the perfect location in the core of Lahaina, West Maui and that's how Skin Factory Tattoo was born – one of the top Maui Tattoo shops. With the best Maui tattoo artists, Skin Factory Tattoo is the right destination for locals and visitors to get the experience they desire.
Get in touch with us for a free consultation today and arrange your next work of art.
Focusing On Complete Client Satisfaction
Our main goal is to provide the best tattoos possible. We are willing to partner with you, our valued customers or clients, to get you that exceptional work of tattoo art you have been dreaming of. Our tattoos are executed with the high standards of sterilized techniques. We utilize disposable equipment, pre-sterilized cartridges/tubes, and needles.
All Tattoo Styles
American Traditional

Neotraditional

Polynesian

Realism

Tribal

Realism

Geometric

Dotwork

Color and Black & Gray Tattoo

And many more
Tattoo Experience You Strive For!!
Our Maui tattoo artists have undergone proper training to improve their work and to meet legal, hygienic, and sanitary standards. We are very well aware of the fact that these standards are of utmost to a positive tattoo experience.
Washing our hands.

Wiping down & Sterilizing furniture and counters.

Offering padded, comfortable seating.

Wearing latex/nitrile gloves, removing & replacing them after in contact with anything other than you or the equipment.

If required, we prep your skin using harmless products.

Using ointment or lubricant throughout the tattooing procedure.

Making sure your comfort, asking how you are doing through the process.

Disposing of infectious waste and needles.

Offering comprehensive aftercare instructions.
Feel free to ask us anything!! We would love to hear from you and address your concerns.
Our Maui tattoo artists are always happy to talk with you, discuss your ideas if you have, and go from there. After all, when you get along with your tattoo artist, it certainly makes for an exceptional experience and the tattoo procedure go much quicker.
Our Procedure
There is no mystery about the tattooing process. At its simplest, it is just the insertion of a small amount of ink into the skin, using a sharp instrument like a needle. Skill is involved in what tools are used, how to position the ink, and how to draw the design.
Let's look at our tattooing process:
Come in, explore our lovely space, and share your ideas. At this point, we listen to your ideas, discuss options, and enlighten you on the tattoo process. We also put you in touch with the finest Maui tattoo artists specializing in the tattoo style you are looking for.
We encourage you to have a better mindset about what has been discussed after the initial meeting. We suggest that you take as much time to think about the ideas discussed with your artist. You are prepared to contact us again to book in or further discuss your tattoo.
When you are satisfied and have decided on your tattoo, you can contact us and make a booking. Once you are booked, we will begin the tattoo design process.
At this point, we begin creating rough and line work sketches for your tattoo.   Your artist will be in touch with you until we get enough concepts and roughs together and explore ideas, sizing, and palates, etc. We start preparing final sketches upon you have agreed upon a design.
Time for tattooing. You just have to get in on time, sit, and be prepared for an incredible, enjoyable experience. In the whole experience, your artist will interact with you. You will have an exceptional work of art on your body once you are done.
Our Differences
Things that keep us apart from other Maui Tattoo shops.
We aspire to create incredible art that transmits your message accurately. We are proud of our standard of service, highly-skilled artists, incredible creativity, and state-of-the-art shop. With every customer, we will take the time to sit down and talk about your tattoo specifications. We will always be truthful and provide our professional artistic guidance.
Professional, Expert Tattoo Artists
All our Maui tattoo artists are incredibly talented with several years' experience that keep customers return over and over. We have a variety of artists who can handle any kind of style and work. Our work says itself, and you can be sure your body art is among the world's finest.
We will discuss numerous finance solutions with you during your appointment to ensure you get now and pay for your fantastic artwork afterward. Fast clearance, competitive prices, flexible repayments.
Love What We Do?
We'd love to design a tattoo for you and will ensure that you have a tattoo that will keep you happy for the rest of your life.
Walk-in welcome or book an appointment today!!