Discover
Skin Factory Tattoo & Piercing and Skin Factory Tattoo Maui
With locations in Las Vegas and Maui the Skin Factory Tattoo shops continue to artist the very best tattoo artists in the area.  Our Las Vegas store is located in Henderson, just 15 mins from the famous Las Vegas strip and has creative artist and is also home to our Piercing specialist.  Owner and creator of the Skin Factory, Eddie works from our Maui tattoo shop, but returns to Las Vegas throughout the year for featured spots.
"Mahalo"
If you are in the Hawaiian Islands then a stop off at the Skin Factory Tattoo Maui shop is a must. Our Maui shop is full of Alloa spirit and some truly amazing tattoo artists. Stop by or call for an appointment and take home an amazing piece of tattoo artwork.
Contact Info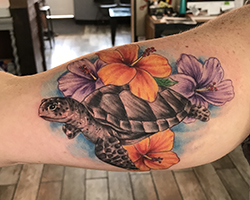 What are you waiting for?