9 of the Most Creative Neck Tattoo Ideas You'll Want to Steal
The Most Creative Neck Tattoo Ideas You'll Want to Steal
The neck is one of the coolest spots to get a tattoo. We share some of the best and most creative neck tattoo designs to help inspire your tattoo design.
Did you know that about 42 percent of Americans have tattoos?
And since "tattoos are like potato chips," once you start, it's hard to stop! 30 percent of Americans have just one, while the rest have two or more. Two percent even have more than twenty tattoos!
That's great news for lovers of ink and self-expression.
We've got more awesome news, too. The perception is changing and the stigma disappearing with it. In a 2015 survey about people with tattoos, most people answered that they saw no difference between those with ink and those without it.
So — neck tattoo, anyone?
Since almost half the American population has a tattoo already, getting your neck tatted isn't a far cry from the norm. In fact, hand, face, and neck tattoos are gaining in popularity just as tattoos in general are. And with the advancements in tattooing, these tattoos can be delicate, beautiful, and intricately done.
Of course, you should take deep and careful consideration before tattooing this nearly un-coverable spot. This isn't the time to get tattooed on a whim. Contemplate your options before scheduling that appointment.
In the meantime, we've got some creative neck tattoo ideas right here! Check them out before getting inked.
1. Tiny but Impactful
A neck tattoo doesn't have to cover your entire throat to stand out. In fact, tiny, delicate neck tattoos have their place.
Model Freja Beha proves how cool these can be with her two well-known neck tats. The first is the word "Float" written in delicate, looping script on the left side of her neck. This dainty tattoo still makes an impact.
The second is the upside-down triangle on the back of her neck. Again, this shows that a tattoo doesn't have to cover your entire neck to be considered a "neck tattoo." Putting a tiny symbol on the sides or back of your neck is cute, simple, and straightforward.
2. Song Lyrics
Any tunes stuck in your head that you never want to leave? Well, consider getting them tattooed, like the singer Halsey did.
In teeny-tiny font, she got the words, "i'm a loser baby" on the side of her neck. This song, released in '94 by fellow artist Beck, obviously had some sway in her life. Now, she can memorialize it forever.
3. Star-Spangled Neck
Another great idea for neck tattoos is to have them creep up from your spine or shoulders and finish on the neck. For this, we look at another celebrity with a tattoo collection: Rihanna.
Starting on her right shoulder and finishing just at her hairline is a galaxy of stars. They're both outlines and filled in, giving it a nice depth and complexity.
4. Lost in Translation
Another neck tat we love is also on Rihanna.
She adorned the side of her neck with the French phrase "rebelle fleur," or "rebel flower." This was back in 2010 before many people were getting their necks tattooed. It's safe to say she's a trendsetter!
5. Take Flight
If you really want to make a statement, consider what could fill up space. For this suggestion, we're thinking of the noble bird.
The body of the bird can be on the throat or the back of the neck. The wings can be splayed open, ready to take flight, decorating either side of the neck.
Think of your favorite flyer — hawk, swallow, owl, whatever — and you've got a beautiful piece of decoration to accompany you for life!
6. A Permanent Choker
Are you a fan of forever jewelry? It's becoming more popular and common to get "jewelry" tattooed on your body, giving you the look that never ends. Some people get rings, bracelets, or anklets tattooed — so why not a necklace?
Consider a hanging design or one that's close to the throat, like a delicate choker. You can let this play out in any way you'd like: big, small, chunky, dainty. Let your style be your guide.
7. Floral Decoration
Flowers are a beautiful addition to the canvas of your body. With their astounding amount of variety and delicacy, you can really mix it up when choosing how to put florals on your neck.
Consider the nape of your neck as the place for your next flower tattoo. It can frame the natural curve of your neck or hairline, or even climb up the sides and rest behind your ear. A quick Google search will turn back tons of ideas for floral adornments.
8. Getting Ornamental
Not every tattoo has to have a specific "design" or picture. In fact, an ornamental tattoo may look just as great as any! Consider the variety of geometric patterns and shapes out there and consider what'd look best for you.
This can be dot-work design, a beehive pattern, a mandala, or anything similar. Check out Radeo from Suicide Girls for an example of a dripping honeycomb heart that stands out.
9. Your Favorite Word
It doesn't have to be a phrase or full set of lyrics to be a tattoo! You can keep it simple as heck by placing your favorite word on your neck. Get it "as is" or even consider doing the phonetic spelling for something unique.
Model Sofia Richie did this with the word "Clarity" in a simple print font. It's smack-dab in the middle of (the side of) her neck, a couple of inches below the ear and above the shoulder.
What's your favorite word? Consider placing it for the world to see!
Is a Neck Tattoo for You?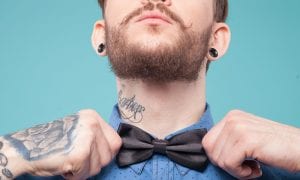 By the end of this list, you're either really jonesing to get a neck tattoo or you've changed your mind. Let your intuition guide you to make the right decision for your lifestyle. Consider cost, placement, design, and more before committing to this delicate place.
And of course, if not your neck, you've got the entire rest of your body!
When you're ready, we'll be ready, too. The next step is choosing a talented, professional artist for your idea. Here are the top ten qualities to look for in your tattoo artist.
Visit our Henderson Tattoo Shop or Maui Tattoo shop