Forget the Diamonds: The Top Tips and Ideas for Wedding Ring Tattoos
Wedding ring tattoos – With 2.3 million couples getting married each year, it's hard to come up with a unique idea to represent you and yours. But, modern brides are setting new trends every day.
The traditional wedding ring is no exception. Yet, that ring may not be what you're expecting, these days. Today's brides are choosing wedding ring tattoos over the diamond.
You read that right. Couples are getting tattoos. Right on their ring fingers to represent the wedding band.
Well, why not?
They're beautiful. It's a permanent symbol of your bond. And, if you get the right one, it's timeless and classy, too.
It checks all the boxes of a traditional wedding ring, without investing 3 months wages.
So, how are couples choosing the perfect wedding ring tattoos? Let's find out!
Wedding Ring Tattoos: Tips and Ideas to Help You Choose!
It's not exactly a new idea, but it's definitely gaining ground. Maybe because tattoos are more popular than ever. Or, it could be the savings involved.
Wedding ring tattoos are far less expensive than a traditional wedding ring. You can get one for $50 to $2,000, depending on the design and the artist. That's a lot of money you can save for the honeymoon!
But, the real reason may have more to do with the tattoo itself. The most valuable thing about a wedding ring tattoo is not the price tag. It's the meaningful design that a couple chooses together.
They're personalized in a way that the traditional ring isn't. And, that's what couples want.
Choose Your Style
Every couple is unique, and so is their personal style. That style will merge into your ring tattoos.
Only about 16% of the world has tattoos. That already makes you unique. But your tattoo style says even more about you.
Here are a few styles to consider.
Traditional/Classic
Tribal
Colorful
Symbolic
Bold & Blackwork
Watercolor
Cultural
There are many more styles to choose from. The style you choose depends only on your preferences.
Symbolism is Important
Here's where it gets personal. Choosing a wedding ring tattoo should include something symbolic. Something special that represents the relationship between you and your spouse.
Find good symbolism in your past, present, and future. Consider how you met, what you like to do together, and your favorite things.
Places you've traveled to and struggles you've overcome can be meaningful symbols, too. Find something that represents your relationship and its special strength.
Here are some ideas to think about.
Special Places: beaches/waves, mountains, sunshine, palm trees
Health and Wellness: heartbeats, peace, double hearts, yin/yang, lotus
Love and Closeness: hearts, love knot, Claddagh, Celtic Knot
Dreams, Spirit, and Strength: moon, crescent moon, clouds, stars
These are just a few symbols. Do your research and you'll find one that suits you! Remember, not all symbols are simple enough for a tattoo. So, make sure you choose one that works.
Speak with your tattoo artist to see if it can work in your ring tattoo.
Keep it Simple
A simple tattoo makes a classy statement. It's also the best bet for this situation.
Why?
To start, fingers are very small areas! Your tattoo artist will have an easier time and do a better job on a simple design.
Here are a few more good reasons to keep it simple.
It's a painful area – less is more
Simple lines and shapes look better
Simple finger tattoos blurless
Easier to touch up later
Choosing a simple design doesn't mean you're settling for boring. Talk with your tattoo artist to get it right!
Plan It Before You Ink It
This isn't the kind of tattoo you do on a whim. It's far more important and symbolic than that. Take the time to plan your design before you have it done.
Choosing an Artist
This is the most important part of the whole process! You need to choose a tattoo artist that understands your vision. And, one that can do the work in the style you like.
Start by checking out some tattoo artist's online. Look at their web portfolios and read reviews from past clients. Narrow it down to three artists that seem good.
Then, schedule appointments with your top three choices. Meet, ask a few questions, and get to know your potential tattoo artists.
Ask if they have experience with wedding ring tattoos. It's not a deal breaker if they've never done one. But, make sure they are confident they can do the work.
Take a look around the shop. You'll get a feel for how they handle their business.
Is it clean? Professional? Do you feel comfortable here?
You'll need to come prepared to discuss your design vision or look at options. Talk about pricing, too. It's ok if they give you a range, as long as it works for your budget.
Schedule Design Visits
Once you decide on an artist, you'll need an appointment to plan and complete your tattoo design. Bring notes about your ideas with you. If you're not sure, as for guidance.
Most artists have many, many options you can choose from right in the shop. But, whatever you choose, personalize it a little bit. Then, negotiate to have it removed from the options.
This is yours. No one else should have it.
Picking the Right Time
Schedule inking appointments, next! It's up to you whether you do it before or after the wedding.
Talk to your artist about what it's like to get a tattoo. This can help you choose the right day.
Getting it done on your wedding day is not the best option. Think about everything else going on that day. It's a very busy day, and you don't want to add to it.
You can always use plain bands as your symbol during the ceremony. For best results, don't rush your tattoo appointment. Schedule it during a time when you can relax and enjoy the moment!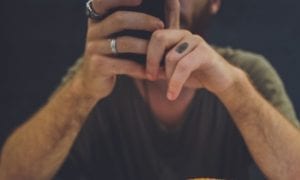 Talk to a Tattoo Artist, Today!
Don't go the traditional route. Look into wedding ring tattoos, instead! They're personal, symbolic and beautiful.
It's a unique and meaningful way to represent your marriage!
Looking for your next tattoo? We've got locations in Las Vegas and Hawaii. Contact us for details, today!