Size Doesn't Matter: Why You Should Consider a Small Tattoo
Small Tattoo – There are literally millions of different tattoos and so many popular tattoo trends posted on Pinterest, Instagram, and Facebook. In a world where possibilities are endless, it's hard to choose which tattoo is right for you. If you're planning to get inked for the first time, or you simply don't want something too big, then the "tiny tattoo trend" might be perfect for you.
Great for Your First
Thinking about getting your first tattoo probably makes you both excited and a little nervous. That's perfectly normal. It's a big step. It's smart to ease yourself in. You don't have to go big or be dramatic with your first. In fact, consider going extremely small. Tiny tattoos have increased in popularity because they're cheaper, less painful, and they don't cover too much skin. It's the perfect scenario for someone who's never gone through the tattooing experience before. Get your feet wet before diving in.
Small Tattoo in Size, Big in Personality
Just because a tattoo is tiny doesn't mean it's not important, beautiful, or special. In fact, tiny tattoos are often very deep in their meaning and represent something very important. A tiny airplane for someone who loves to travel, a band around your finger instead of a wedding ring, a small cross, or a music symbol are examples of small tattoos that carry a lot of meaning.
True Fans
If you're getting a tattoo that originates from a book or movie that you love, going small tattoo could mean more, as a fan, than getting an entire sleeve. Several Harry Potter fans have shown themselves as true Potterheads by getting tattoos of the three tiny stars that are found on the top of the book pages and small lightning bolts. These tattoos hold significance and will be recognized by true fans. It's a way to show your support without being overly obvious. And, of course, this method works for more than just Harry Potter.
Say I Love You
Tattoos are a great way to show love. Getting tattoos with a personal message to someone else is a popular trend, but, since it's permanent, it makes some people nervous. Getting something small, instead of making a physically "big gesture" is a great way to ease your anxiety. If you want to get a tattoo that matches your sisters, or a mother-daughter tattoo that shows your special bond, then think small. Get a tiny heart on your ankle, or tiny matching flowers. If you love your dog and want the world to know you're a proud puppy parent, get tiny paws prints tattooed on your wrist or ankle. Show your love for your kids by getting a tiny tattoo of their birth date or time. These tattoo designs are filled with lots of love despite their size.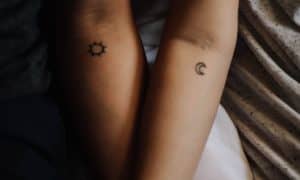 Tiny tattoos aren't insignificant or meaningless. Size doesn't matter when it comes to ink. What matters is the reason for the tattoo. So, if you're nervous about covering too much skin in ink, or you're getting a tattoo for the first time, consider going small. For more tattoo ideas, or to set up an appointment, please contact us.