Say 'I Do' With a  Wedding Ring Tattoo
 Wedding Ring Tattoo?  So, you're going to get married and you want your wedding to be special. Maybe you aren't planning on turning it into a rock concert, but still, you want something to stand out and be different.
If you want to stick to a more traditional venue but still want something unique to you and your fiancée, how about swapping traditional rings for tattooed wedding rings?
There's a lot to love about tattooed rings – for one thing, you'll never have to worry about accidently dropping one down the drain – but the best thing about tattooed rings is how personalized you can make them. Tattoo fans have tied the knot with everything from skulls to Pokémon balls; the only limit is your own creativity. Here are just a few ideas for designing your own custom rings:
Wedding Ring Tattoo – Basic Bands 
If you like the idea of tattooed rings but still want something traditional, you can do a basic wedding band. There are still plenty of design options to choose from with these bands, but if you want to keep it simple then a classic wedding band is the way to go.
Wedding Ring Tattoo – Initials
Incorporating you and your partner's initials can be done in all kinds of ways. Some couples like to have the letters stand alone, while others weave them into a meaningful design (Celtic knots with the initials in the center, for example).
Wedding Ring Tattoo – Matching Items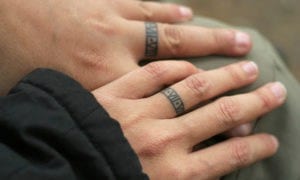 Another cool idea is to use different but related objects as ring tattoos. Some examples of this are a lock and key, a tree and a bird, or different musical notes. If there is an object that has a special meaning to you and your fiancée, you can incorporate that into your design.
The possibilities for ring designs are endless, and the result will be romantic work of art that will last a lifetime. Have questions about Las Vegas tattoo artists, body piercing, or laser tattoo removal? Contact us for more information!
Wedding Ring Tattoo.  A Skin Factory Tattoo & Body Piercing Blog post
Stop by our Maui Tattoo Shop or Henderson Tattoo Shop