Inking Your Wanderlust: The Top Travel Tattoo Ideas for Your Vagabond Heart
Inking Your Wanderlust: The Top Travel Tattoo Ideas
Are you absolutely obsessed with travel? Are you thinking about inking your obsession? If so, read on to learn about the top travel tattoo ideas.
There are 5,000 airplanes over the US at any time. Curious what that looks like? This website will let you have serious travel jealousy as it tracks planes in real time as they traverse the globe.
If you have a passion for travel, why not ink it on your skin? Then whenever you start to dream of your next adventure you can glance at your travel tattoo.
But what should you get to show your love of travel? We have a few ideas for you.
World Map
You could go simplistic with your world map by choosing to do an outline of the continents. Or you could fill them in and have solid black for a bolder look.
For a more creative look, you could make the continents colorful inside the rigid outline. Or go more freeform and choose a watercolor design.
Now all of these designs would be a flat hang on the wall type of map design. So you could change it up and get a globe tattooed instead.
Compass
You'll never be lost as long as you know where North is.
For a more traditional look choose a highly detailed and shaded design. While a minimalist design will have few details beyond two crisscrossing lines and the four directional letters.
If your heart is in the sea look for a nautical compass. These are slightly different as they have a nautical star as a part of the design.
Airplane
What better way to show your love than to get an airplane? You could continue the minimalist trend that we've talked about so far.
Or you could go with a more realistic design. Or how about a new-school colorful cartoon design? This would make your airplane stand out among all of the other people with plane tattoos.
Something Cultural
Do you have a favorite place to visit? Then why not get a tattoo that is symbolic of that place or culture?
Many people go to Thailand and get a traditional talisman tattoo known as Sak Yank tattoos. Or you could travel to Japan for a traditional tattoo.
If you go this route try to honor the culture by staying as true to form as possible. Make sure you follow the rules of the culture and style.
Coordinates
As far as design most people stick to one style when it comes to coordinates. They use a more solid traditional block letter. Then you have the numbers in a line.
We're not saying you have to go this route, but why try to fix what isn't broken? This presentation looks the best and allows for the coordinates to be read.
You have freedom when it comes to what coordinates you choose though. You could put the location of your home to always remember where you came from.
Or you could put the location of your favorite place to go. A third option is to put the location of your bucket list place that you haven't been to but hope to go to one day.
Waves or Ocean Inspired
For some travel is all about the ocean and being near the water. You could follow in celebrities' footsteps by getting a mini tattoo.
A small and simple line in the shape of a wave will subtly express your love for the sea. A mini tattoo is the perfect tattoo style for those who want a tattoo but aren't ready to commit to anything too big or noticeable.
You could go in the exact opposite direction and go with an American traditional ship. These tattoos feature traditional colors and bold black lines.
Inspirational Sayings
Instead of going for the imagery you could opt for a meaningful saying. Some of the best sayings are short and simple. You could even go with just one word that has significance or meaning to you.
For a softer look opt for a delicate script. Just make sure you can read the letters. If you want a bolder look, you can choose a san serif type of font or block lettering.
Animals
Do you feel a special connection with an animal? You could have that exotic animal tattooed as a symbol of the country it's from.
Many people choose to get an elephant for Africa. Or how about a sea turtle for the tropics?
You could go for a big statement piece that is a portrait on your arm, thigh, or back. It could have a lot of shading to add depth and dimension.
Plants
Palm trees are popular with travelers who love the tropics. If this sounds like the tattoo for you, then stop by our Maui shop,
Las Vegas Tattoo shop or Henderson tattoo Parlor.  The most popular design is a solid black tattoo. The trunk of the tree is slender with a slight curve.
You can scale the tree for where you want it on your body. Place it on your arm or leg, and you can make the trunk longer. Place it on your foot and curve the trunk more.
Pick Your Travel Tattoo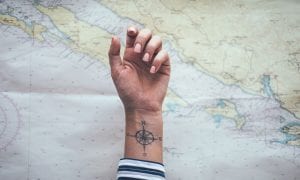 Don't be afraid to mix a few different ideas. Pick one tattoo style, but then combine the world map and compass. Or you could do a wave with a fish.
Whatever you decide on for your travel tattoo, make sure you find the right tattoo artist. This can make or break your tattoo.
Ask your artist what type of styles they are comfortable tattooing. When you find an artist you like, work them to create something that is unique to you and your passion for traveling.
Have an awesome idea for your travel tattoo? Give us a shout and let us bring your tattoo to life.