9 Spectacular Meaningful Tattoo Ideas to Celebrate a Baby
Congratulations, you have a new baby. The perfect way to outwardly show your eternal love for your child is a tattoo. Checkout our meaningful tattoo ideas now.
Are you a new parent wanting to celebrate the birth of your child a little differently? Have you been thinking up ways to show the world your eternal love and adoration for your baby?
Well, firstly congratulations on your new baby! Secondly, have you been thinking of a meaningful tattoo idea?
Before you begin selecting get a good idea of where you'd want the placement to be, and what kind of style you're looking for. This will help narrow down your options to find the perfect meaningful tattoo for you.
Decide if there are a few fonts that you really like, and whether or not your tattoo will be in color. This will save you tons of time trying to select more options within your options!
Are you ready to get into some options for a meaningful baby tattoo? Keep reading on for some unique and some tried and true tattoo ideas to show your love permanently.
1. Their Birthday
Probably the most seen baby tattoo ideas that people get is their baby's birth date.
You can put your own spin on it by going with different fonts, abbreviating the date, or just going with Roman numerals. The choices and possibilities are endless with how you want it to look.
2. Longitude & Latitude Coordinates
A bit of a unique spin on tattoo idea, using longitude and latitude coordinates are another meaningful way to show your love.
This is a good one especially if you're family moves around and you may not have children in the same location. It also works if they are all born in the same place and have 'one for all' type of tattoo.
Some people choose the coordinates of the hospital, their home addresses, or the city/town in general where they live. You can get creative with this one but just remember to make sure it's accurate!
3. Foot or Fingerprint Tattoo
A classic commemorative example is footprint and fingerprint tattoos. People have different spins on how they do this.
For example, you can get the prints done in the shape of a heart, or just have the print on its own without a pattern or design to them. It's, of course, your choice to make.
You should research and contact a good tattoo artist first to ask them for what you need to do to get your baby footprint tattoo ideas in ink. Some artists might have their preferred methods of doing these and it's worth the ask ahead of time.
4. Their Birthstone
If you're a fan of colored tattoos getting your baby's birthstone is also on our list of unique tattoo ideas. For this one, you can opt for a round gemstone type tattoo, or even go for a little stalagmite colored in with the right color.
In the event you decide to have more children, you can add on another stalagmite and have a little stalagmite family going!
5. Their Zodiac Constellation
Some people get their child's zodiac sign, but what about something more unique like the zodiac constellation?
When your baby is born, there is a specific zodiac star pattern in the sky for a certain amount of time. This is how people get their zodiac signs.
A great tattoo idea can be mimicking what the sky showed the night your baby was born with a couple line segments that marked their birth into the world.
6. Their Initials
Baby name tattoo ideas top the list of common tattoos, but have you considered just doing initials?
If you're looking to get something a little smaller, your baby's initial can be a great option for you. Similar to the birth date tattoo, you have the option of a large variety of fonts and styles to choose from for this tattoo.
7. Heartbeat
Hearing your baby's heartbeat for the first time can be one of the first most emotional and heartwarming experiences of parenthood. Did you know you can capture it?
During your baby's sonogram, the doctor listened to and recorded your baby's heart rhythm. You can ask your doctor for a copy and take it to your tattoo artist to have them copy it onto your skin.
This is definitely a unique way to show your eternal love, and also having a memory of when you heard their heartbeat the first time with you forever.
8. A Flower
Another option that people go for is getting a flower.
Typically, parents will pick a flower that represents their child or something one that they favor, and tattoo it on themselves. If you end up having more children, you can turn your one flower into a lovely family bouquet.
The options of tattoo ideas for flowers are endless and you can easily swap for a colorless option if you'd like as well.
9. A Heart
Last but not least, we're ending off our list with one of the classic baby tattoo ideas; a heart.
Don't be shy to get a little creative with this one. Options you can look at are having their name or initials inside the heart or part of outline, you could put their birthdate, or just simply an outline without any colour.
Tattoo Ideas To Celebrate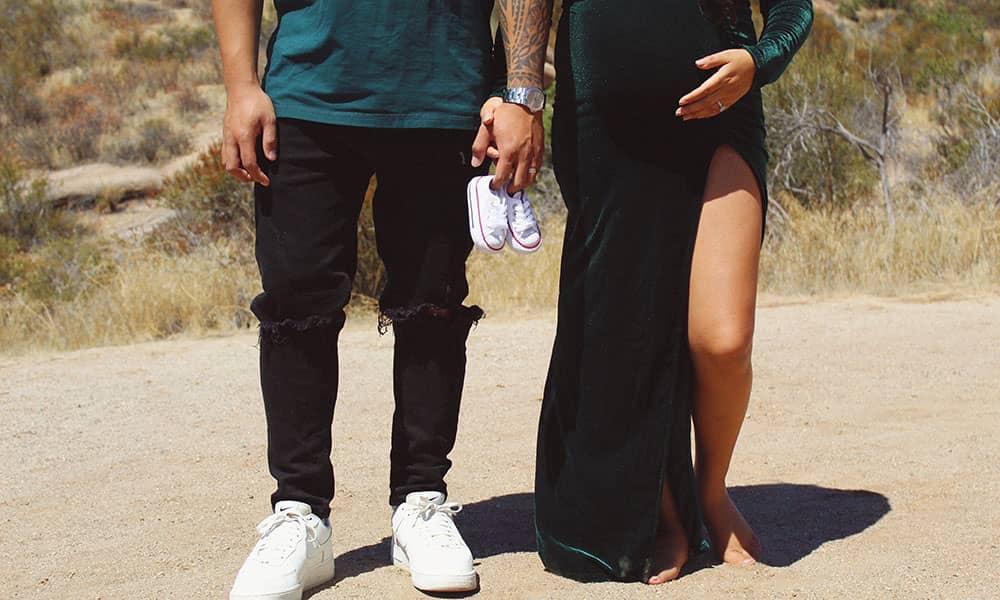 When it comes to tattoos like these, make sure the one you pick is something meaningful to you. Take your time in making a decision and take all aspects of the design into consideration. Decide what colours, shapes, and styles you like best before heading to a tattoo shop.
Once you've decided on what you'd like to go with, or if you need a little help in deciding what would look best, contact your local tattoo shop to book an appointment.
Be sure to check out the rest of our site for more informative tattoo content!