The Strategy of How to Time and Plan a Tattoo Sleeve
From the design, budget, and number of sessions it will take, you need to first strategize how to plan a tattoo sleeve before embarking on this design journey.
Are you planning your next big tattoo project? Getting a sleeve is no joke and it's a big commitment. It requires a lot of planning, money, and time. Do you know how to plan a tattoo sleeve?
Planning a big tattoo takes some forethought. It's not like grabbing a quick flash piece on Friday the 13th or adding a new piece to your thigh. It's an entire project and you need to decide how you want it to look. You only have so much space.
Does this sound overwhelming to you? We get it. We're here to offer some advice so you can get your new sleeve started. Keep reading to learn all about strategizing and planning a tattoo sleeve that you're going to be proud to show off.
Decide: Full Sleeve or Half Sleeve?
The first step for planning your tattoo sleeve is figuring out whether you want a full sleeve (one that runs all the way from your wrist to your shoulder) or a half sleeve (which runs from either your wrist to your elbow or your elbow to your shoulder.
Planning a half sleeve tattoo is often more complicated than the full sleeve because you only have so much room and it tends to be more important that everything looks cohesive. We'll talk about cohesion later on.
Half sleeves will be more affordable and they'll take less time than full sleeves. Full sleeves have a more jarring visual effect (which some people want). Artists will be happy to work with you when you're trying to decide and they can make suggestions based on your preexisting tattoos and on what will work best with your body.
Eclectic, Cohesive, or a Mix? You Choose
Sleeves come in two primary varieties: eclectic and cohesive.
Eclectic sleeves tend to have a basic idea in mind and they're patchworked together over time. These sleeves require less planning but just as much attention to detail as their cohesive counterparts.
Eclective sleeves can still have cohesion. You might work with one artist throughout the process, or choose one color, style, or theme as a throughline. For example, many people have sleeves full of American traditional tattoos that don't "go together" per se, but they still look like they were done with intention because they match.
Other people choose blackwork for their sleeves, or an arm full of florals. While these things aren't all part of one piece in a traditional way, they still make up a whole.
Cohesive sleeves are based on one project. You come in with something in mind and the tattoo artist will come up with a single piece that covers your entire (or half) arm. While this takes more planning in the design stages, you don't have the task of filling in all kinds of small leftover spaces from an eclectic sleeve.
Blackout sleeves are trendy right now, which is a full sleeve of black ink or black ink with white or skin-colored designs, like a reversal of the traditional tattoo sleeve.
Pick a Style and Artist
There are all kinds of tattoo styles to choose from. Because a tattoo sleeve is such a huge commitment, it's important that you pick a style that you love. You'll be seeing a lot of it.
American traditional and Japanese traditional are two popular styles for tattoo sleeves because they include bold lines and shading so you know that the sleeve will have longevity. Some people like sleeves full of tribal-style tattoos, or sacred geometry designs.
If you're doing a completely cohesive piece, you'll have one style for the entirety of the arm. You want to choose an artist that's adept with that style, not just your favorite local artist who's done other styles of work that you like.
Visit local shops for portfolio books and check out the Instagram accounts and galleries of local artists to see portfolios. These portfolios will help you decide who the right person for the job is.
Talk With Your Artist
Once you've chosen your artist, it's time to have a consultation. Tattoo consultations are often free (though you will make a deposit that goes into the final cost of your tattoo. That deposit covers the time and effort your artist will put into the art in case you choose to not get the tattoo).
While you may come in with ideas, don't come in with a sleeve that you want an exact copy of. Instead, come in with concepts and other drawings that have a similar feeling to what you have in mind.
An artist's job is to make art, not copy. Your tattoo artist will make a design that suits your needs and works best with your form. Many will make small alterations on the day of. They know that a sleeve is a commitment.
Schedule Carefully
Some artists will give you the option of scheduling a sleeve for one day. If this happens to be your first tattoo, don't choose this option. Even if you're a tattoo veteran it might be too much for you.
It's wise to schedule blocks in several-hour increments depending on your pain tolerance.
Talk to your artist about how they prefer to schedule large projects like this and make sure to discuss the cost. Because most artists charge by the hour, they may want you to pay as you go or they may want a larger upfront sum.
If you aren't doing it all in one go, it's best to give yourself time to heal between sessions (especially if you're doing lines and color or shading on separate days).
Now That You Know How to Plan a Tattoo Sleeve, Get Started!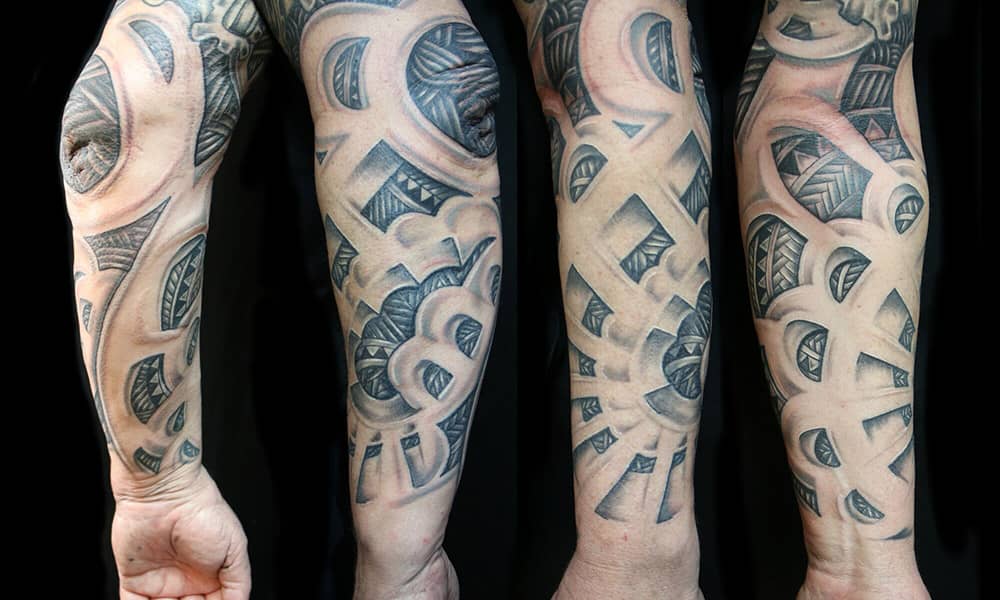 Knowing how to plan a tattoo sleeve is the first part of the battle. The actual planning? Much more difficult.
Find a great artist who can help you bring your tattoo sleeve ideas to life. We know planning a big tattoo is hard and we want to make sure that you get something that you love.
Contact us today to schedule a consultation and get started.