Friday The 13th Tattoos: How Did It All Get Started?
Friday the 13th tattoos have been all the rage for the tatted. So how did it all get started? How did this beloved holiday come to be?
The world of tattoos is one that is full of stories to tell. Behind the artistry of the designs are origin stories that adds mystique to  tattoos.
And when you talk about tattoos, Friday the 13th is a date that you cannot separate from the subject. Though the date is originally associated with ghosts, goblins, and other spooky things, it is also popular for getting cheap tattoos. These tattoos usually come with the number 13 incorporated in the design.
On this particular day, you can get Friday the 13th tattoos for $13. On a regular day, these tattoos may cost you up to as much as $150.
So yes, Friday the 13th is a good day to get a tattoo. But did you ever wonder how it all started? Do you know the factors that helped shape this unique holiday?
Continue reading below and learn the answers to these questions.
Origin of Friday the 13th Tattoos
Friday the 13th tattoos originated in a supposed one-night party that lasted for 24 hours. Though the annual celebration is only a quarter of a century old, the elements that surround the event is rich in history.
The Marketing Gimmick
The event started in Dallas, Texas in 1995. It was a day when tattoo artist Oliver Peck of Elm St. Tattoo decided to throw his very first tattoo shindig on Friday the 13th.
As we mentioned earlier, the event lasted a full day. As for the significance of the number 13, Peck offers an interesting explanation. Though "13" signifies bad luck, sailors used the number as an antidote, Peck explained in an interview.
The sailors inked their bodies with the number to drive away bad luck. The rationale is that when bad luck arrives at the sailors and see the number 13 already inked, it will think that bad luck is already there. It will then move on to the next person who doesn't have the number 13.
"I definitely wasn't the first person to do it, the number 13 tattoo on Friday the 13th," Peck clarified. "But, I definitely made it an event."
From then on, Peck decided to make it an annual event. As the years went by, other tattoo shops followed suit.
But one of the key factors that made Peck's event a rousing success is the pricing of the tattoos. The cheapest tattoos you can find on regular days cost around $50 to $80. The average hourly rate is around $150.
For tattoos with more intricate designs, you should expect to pay more. But during Friday the 13th, you can get them for a measly price.
Tips for Getting a Good Tattoo
Now that you know how this tattoo spectacle started, you need to learn the ins and outs if you wish to get a Friday the 13th tattoo. Here are some valuable tips that will help you survive the day and come out with the number 13 on your skin.
1. Check the Portfolios First
Before heading to any shop or artist, conduct your research and due diligence. This means checking out their portfolios a day or two before the event. Check their websites to get an idea of their output.
You can also visit the tattoo shop. Take a look at their designs and scout for the ones that you like. This way, you will have a much easier time telling the artist how you want your tattoos to look like.
2. Try to Be Early
Perhaps the biggest trade-off of the cheap tattoos is the long lines of people you need to brave. Thus, you need to come as early as you can.
Expect long lines, especially if you are going to the more popular tattoo shops. Bring some water and a lot of patience. This is a first-come, first-served affair.
3. Be Nice to the Artist
One of the keys to having a great tattoo is establishing good relations with your artist. Hence, you need to be nice to your tattoo artist right from the get-go.
Keep in mind that what they are doing is their way of giving back to the community. It is their manner of expressing gratitude to their craft. Considering the long lines of customers on Friday the 13th, artists become tired easily.
If you have any questions or concerns regarding their work, do not hesitate to speak up. If you have any complaints, tell them.
But do so in a respectful tone.
Additionally, don't ask the artist to do four or five tattoos for you. Keep in mind that people outside are still waiting for their turn.
4. Cash and ID Matter
Don't forget to bring your cash. Sure, the tattoos will only cost you $13 and an additional $7 for the tip. But you also need to spend on water or food in case you get hungry.
Moreover, make sure to bring your I.D. Without it, the tattoo artist may turn you down.
5. Manage Pain and Discomfort
Before the actual procedure, make sure that you have something in your stomach. Inking can take hours, depending on the size and intricacy. If you go hungry, your body may shake and it will affect the procedure.
You should also be aware that tattoos will give more pain to certain parts of the body compared to others. If it is your first time to get a tattoo, bring some headphones. Listening to music will help keep your mind off the pain.
6. Always Tip Your Artist
Last but not least, you need to give a tip to your tattoo artist. As we said earlier, this is their way of giving back. It is best not to get a tattoo if you have no plans of giving a tip.
As for the amount, the standard is $7 so you need to prepare at least $20 per tattoo.
Let's Get Your Tattoos Right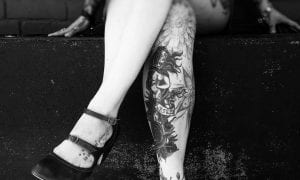 If you are looking to get your first tattoo, getting Friday the 13th tattoos is a good way to start. But if you are planning to add to your tattoo collection, you can start leveling up with intricate designs.
We have a long list of seasoned artists who can get you the designs that you want. We take pride in the quality of our work and the process behind it.
Feel free to get in touch if you have any questions. You may also visit any of our two locations. Let's get your tattoos right, today!
Maui Tattoo & Piercing Shop Henderson Tattoo & Piercing Shop