Trending Tattoo Styles
Trending Tattoo Styles – Looking for your first tattoo is just as daunting as picking your fifteenth tattoo. Finding inspiration can come suddenly, or in small trickles as you decide what exactly is right for you. Here's a list of five styles gaining popularity in the tattoo community!
Realistic flowers: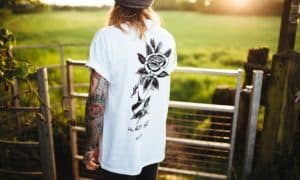 We've all seen beautiful flowers as tattoos, but the Russian tattoo artist Pis Saro has perfected a beautiful style seen on her Instagram page. The delicate yet completely accurate tattoos have a certain delicate beauty perfectly encapsulated by her style. Flowers that never fade physically will never fade in style.
Ripped skin tattoos:
Looking for something more hardcore than fancy and frivolous flora and fauna? Perhaps ripped skin tattoos are right for you. These works of art take on a 3D look, making your skin appear shredded or torn to reveal something underneath the skin. Perhaps what lies underneath is a tattooed recreation of your own skeleton, or a poem fragment you really enjoy. The possibilities range from maps to stunning designs to something symbolic to you.
Minimalist tattoos:
Move aside full sleeves, small, minimalist tattoos are taking their stand. These tattoos have a gentle charm to them in their unique simplicity that will lend a great aura to any social media posts displaying said tattoo. Due to how petite they usually are, they can go most anywhere on the body and be easily covered up in case of a workplace that frowns upon tattoos.
Bright tattoos:
This style comes in multiple shapes and sizes, from beautiful watercolor replication to simply bright and bold tattoos that can fit into other categories listed here. One such example of vibrant watercolor tattoos includes Lianne Moul's work, displayed on their Instagram page.
Cosmetic:
Tired of doing your eyebrows every time they get out of hand? Perhaps investing in getting cosmetic tattoos is what's right for you. These tattoos can do anything, from boost your lip color to give you permanently good-looking eyebrows. These have the bonus of being functional, as well as boosting your physical appearance.
Las Vegas Tattoos
Found something that piques your interest? Great! We at Skin Factory Tattoo would love to provide you with the customized body art you love. Contact us to find which tattoo artist can give you the tattoo to fit the real you.