10 Popular Tattoo Designs For Men in 2018
10 Popular Tattoo Designs For Men in 2018
What are the latest tattoo trends for men this year? Check out these tattoo designs for men to help inspire you for your next tattoo.
More people at your job might be hiding tattoos than you think.
In fact, more than 45 million Americans today are inked, including more than 1 in 3 people between the ages of 18 and 25.
So whether you're thinking about getting your first tattoo or adding one more on to the list, there new styles and designs in 2018 to help inspire you to find your perfect match.
Ready to branch off from the old school traditional or neo-traditional designs? Take a look at 10 of the most popular tattoo designs for men in 2018 below.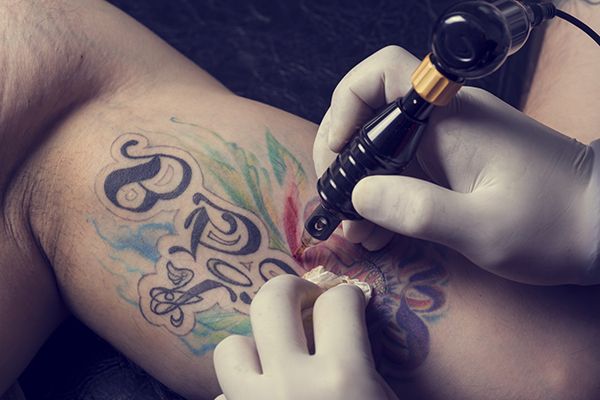 Tribal Tattoos
Yes, you read that correctly.
Tribal tattoos may feel like a cliche of the past, but a modern take on this seemingly dated design has helped elevate them to a trending status in 2018.
If tribal tattoos give you a strong '90s vibe, you're not alone. Still, you need to go even further back in time to find their true origin. Thousands of years old, the new take on these tribal tats leaves thick lines and spaces behind for the thinner, more precise ink with less space between each marking.
Of course, if traditional tribal is more your speed, injecting your personality into any design can help it feel fresh and new – even if it dates back to prehistoric times.
Minimalist Designs
A tattoo doesn't have to have lots of line work or colors to pack a punch.
Minimalist tattoo designs for men can include simple shapes and lines combined to create new styles for this permanent body art. Used to create arrow designs, animals, or even plants, you can use the minimalist tattoo style to design nearly anything.
Keep it simple with a black and white aesthetic or add subtle pops of color to make the design pop.
Pop Culture References
Big Superman fan? Wakanda forever?
Superheroes are a good place to start if you're thinking about having your favorite pop culture references inked forever, but they aren't the only options.
If you've got a favorite video game character, musical artist, or film franchise, there are plenty of styles and options for tattoo styles that really pack a punch. There's no rule on sizing either. These masterpiece ideas can be small enough for your fingers or take the shape of full-size chest or back pieces.
Quote Tattoos
Nothing is more personal than the art you decide to have inked onto your body, but not every piece has to be a picture or image to be right for you.
In reality, your favorite words or quote can be the perfect inspiration for men's tattoo designs.
Words alone may feel simple but with fonts, color, and sizing to consider, there are plenty of ways to personalize this particular style. More than being a tattoo for the world to see, quote tattoos can have special meanings only you recognize making them even more powerful for some people.
Geometric Tattoos
Circles, triangles, and squares, oh my.
These may be some of the most basic shape designs in history, but with a little artistic flair they can be turned into almost anything.
Geometric tattoo designs for men are among the most popular styles in 2018 in part because of their versatility. Looking for a unique way to have a beloved pet tattooed on your arm or an intrinsic mandala that covers your entire shoulder? Geometric could be the way to go.
Watercolor Tattoos
When you were young someone probably taught you not to color outside the lines. Watercolor tattoos aren't here to abide by those rules.
Designed to look like freehanded strokes of color splashed across your skin, watercolor tattoos are as versatile as they are fluid. Just the color alone, or color added to another design, watercolor tattoos can add depth and dimension to anyone's tattoo style.
Small Tattoos
On the surface, big tattoos always seem like the ones that get all of the attention, but in 2018 small tattoos can have just as much impact (or more).
No matter what your style or design choices are, small tattoos can help add a sense of sophistication to your skin art. They can be simple designs, or intrinsic pieces of art. The only rule of thumb with this design choice is that they have to be small – the rest is up to you!
Realism
Photo-realistic tattoos are an old-school design style, but the elevated skill of many of today's tattoo artists has helped to breathe new life into this 2018 trend type.
There's plenty of inspiration you can draw off of for these realistic tattoo designs for men including family members, loved ones, historical figures, and scenic landscapes.
Deep shading and fine line work help make photo-realistic tattoos look even more true to life for whatever image, person, or place you want to represent.
Linework Tattoos
Similar in some ways to minimalist tattoo designs, linework tattoos create depth and dimension out of simple black lines.
These can include animals, tribal designs, and even faces.
Unlike minimalist designs, linework tattoos manage to create the element of shading and realism out of clusters of these simple lines. In 2018, you can create large portraits or small, intricate creates out of these linework masterpieces.
Mix and Match Styles
Perhaps the biggest trend of 2018 is that your tattoo really doesn't have to adhere to one particular style anymore.
Want to create the portrait of a lion that's half photo-realism, half geometric? You can do that. Want a minimalist tree design with accents of watercolor to create the branches and leaves? You can do that too.
Today, there are no limits to what you can create or how your tattoo artist can hybridize these styles to make them distinctly you.
Getting Inked
Thinking about getting inked with one of these trendy designs?
Even if you don't want to fully commit to just one tattoo style, there are plenty of popular ideas you can draw from to create something unique to you and your personality. What matters most is that your tattoo represents you and the things you love – anything else is just lines and color.
Ready to take the plunge? Contract our artists today or swing by our tattoo shops in Las Vegas, Henderson, or Maui to get started!