Finding the Right Artist for Your First Tattoo
Finding the Right Artist for Your First Tattoo – You have made the decision to get your first tattoo. You have planned it out for months, coming up with the right design, and saving enough money. Your first tattoo is a really exciting experience, and you may be eager to hurry up and get it done. One of the most important things you can do before getting your first tattoo is choose the right artist. Here are some of my tips, and questions, you should ask yourself when choosing a tattoo artist.
Do They Have a License? 
While every business itself is required to have a license, not every state requires individual tattoo artists to have a license. Personally, I think it's best to choose an artist who has a license. In order to get a license, they have to pass the bloodborne pathogen test and are more likely to follow safety procedures.
Do They Have a Good Reputation
When you walk into a shop, an artist may show you a book of tattoos that "They have done." However, they may just be showing you a book of tattoos that have been done by other artists in the shop, or artists they have trained. I suggest asking around to see where other people have gotten their tattoos done. Ask if they would recommend the shop, and examine their tattoos for quality. Word of mouth is usually the best form of advertisement for any business. If someone isn't happy with the work they received, they will usually tell you.
Are They Tattooing in a Shop or in a Home?
I have heard many people say they got their tattoo from someone who did it in a friend's kitchen. These people may be great artists, but for sanitary and safety reason it's best to get the tattoo from someone working out of a shop. Yes, getting a tattoo from a home artist may be cheaper, but most of the time the saying "you get what you pay for" holds true.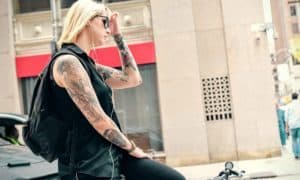 At the end of the day you should enjoy the experience of getting your first tattoo. There is an excitement in hearing the buzz of the tattoo machine and the feel of the needle can be addicting. The worst thing would be to look back and wish you would have done things differently. You should do as much research as you can before choosing your tattoo artist. If you would like to talk with our artists, ask questions, or make an appointment please feel free to contact us.