The Symbolism Behind Popular Animal Tattoos
The Symbolism Behind Popular Animal Tattoos
Are you thinking about getting an animal tattoo? Here's what you should know about the symbolism of animal tattoos before you decide.
Roughly 40% of American adults are inked, and a quarter of those individuals have more than one tattoo. With tattoos becoming increasingly popular, now may be the perfect time to get that ink you've always wanted.
Of course, whether you're considering your first tattoo or your tenth, you'll want to choose a design you'll love for the rest of your life. Oftentimes, it's the hidden symbolism behind certain tattoos that really helps you feel connected to the design.
And animal tattoos are no different! From insects to mammals, some of the most popular animal tattoo designs carry hidden meanings.
Do you want to know what we're talking about? Keep reading to discover the symbolism behind some of your favorite animal tattoos.
Bald Eagle
It's no secret that the bald eagle is often seen as a form of patriotism. For those who want to show off their love for America, you can't go wrong with a glorious bald eagle paired with an American flag or military helmet.
Because of its connection to America, many also view the bald eagle as a symbol of freedom and opportunity.
However, the bald eagle symbolizes much more than that. In many cultures, it also represents spirituality, guardianship, protection, power, leadership, and skill. If you want to steer away from the patriotic look for your eagle tattoo, consider getting a realistic piece, something in black and white, or an eagle hunting its prey.
Koi Fish
Koi fish are popular elements of Japanese and Chinese-inspired tattoos because these cultures consider the koi fish as a symbol of luck and good fortune. The pronunciation of the word "koi" is also similar to the pronunciation of the Japanese word for love. This has led many people to view the koi fish as a symbol of love, affection, and friendship.
Because of their ability to swim upstream, this fish also represents persistence, strength, and overcoming obstacles. If you want to drive this meaning home, consider adding waves or water to your koi tattoo.
Elephant
Elephants have become a popular tattoo choice for men and women alike. Because of the popular phrase, "an elephant never forgets", many believe elephants symbolize wisdom and mental strength.
However, their size has also led many cultures to view them as a symbol of power, longevity, and strength.
Hummingbird
If you're considering a bird tattoo, you can't go wrong with a hummingbird.
Because of their quick movements, they're often seen as a symbol for energy, playfulness, vitality, and agility. However, they've also been known to represent joy, peace, healing, and loyalty.
To further showcase joy, energy, or playfulness, consider adding bright colors to really make your hummingbird tattoo come to life.
Dove
The dove is another great option if you want a bird tattoo. However, its symbolism is far different than the hummingbird.
Doves often represent love, hope, peace, and freedom. Because of this, they are common elements of marriage, religious, and memorial tattoos.
The addition of an olive branch in the dove's beak further represents peace, particularly in the Christian faith. Since mourning doves mate for life, adding your wedding date or wedding bands to a tattoo of this bird is a great way to embody your marriage.
Shark
Don't feel limited to fish, turtles, and dolphins if you're looking for the perfect underwater tattoo. Many people opt for sharks because they symbolize focus, power, and curiosity.
If you're not sure you want a full shark tattoo, consider getting a shark tooth. It still carries all the same meaning that's behind a shark tattoo with the added symbol of protection.
Lion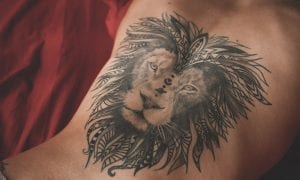 There's a good reason why the lion is considered the king of the jungle. Their strength and fierce hunting skills placed them at the top of the food chain, and also led many cultures to attach various meanings to them.
In most cultures, the lion is seen as a symbol of power, ferocity, authority, and courage. However, in the Egyptian and Chinese cultures, the lion also represents protection. Others believe it symbolizes wisdom, justice, and royalty.
If you want your tattoo to showcase power and courage, consider getting a roaring lion. If you'd prefer a lion symbolic of royalty or wisdom, consider getting it in a relaxed position or with a crown on its head. To focus on the protection element, you could get a lion with a cub or a lion overlooking the savanna.
Butterfly
Butterfly tattoos are coming back into style—and there's a good reason why!
Butterflies represent metamorphosis, change, and beauty. If you've recently had a rough patch in your life, the butterfly can personify the difficult change you went through and how you came out the other side stronger and better than ever.
Butterflies are often accompanied by flowers, so you can add even more symbolism to this tattoo by choosing the right flower. For example, the aster symbolizes patience and elegance while hydrangeas symbolize gratitude.
Frog
If you're not a fan of butterfly tattoos, consider getting a frog instead. Much like a butterfly, frogs symbolize metamorphosis, healing, and rebirth. Additionally, they can also symbolize luck, purity, new opportunities, and fertility.
Frogs can be depicted in different colors and around various types of flowers and plants. So, if you want to further drive your favorite meaning home, consider choosing colors and additional elements with the same symbolism.
Which Animal Tattoos Are Right for You?
Don't settle for any old design on your next trip to the tattoo shop! Animal tattoos look amazing and are filled with meaning that can make it even more special to you. From the powerful lion to the peaceful dove, you're sure to find the right tattoo to match your style and personality.
Are you ready to get your new tattoo! Contact us today to make an appointment at our Las Vegas, Henderson, or Maui location.